Author: Christoph Schwinghammer
25 Jun
Ich sag jetzt einmal gar nichts, sondern poste einfach mal den Link:
http://tv-links.co.uk/
Glath Video, Alluc,… for Kiddies!
Author: Christoph Schwinghammer
22 Jun
Langsam wird dieser Blog ziemlich "film-lastig"…
Aber das gehört einfach gepostet:

zu finden unter:
[adult swim] RCSW bzw. unter starwars.com und bei all jenen bei denen es dort nicht funktioniert, dies ist zumindest bei mir der Fall, können hierhin ausweichen:
Fünf Film Freunde – Robot Chicken: Star Wars Special
btw. eine recht anschauliche Page mit brauchbaren Reviews
Author: Christoph Schwinghammer
17 Jun
Passend zur "Zeichentrick-Diskussion", ein Meisterwerk von Chuck Jones einem Großmeister des Trickfilms: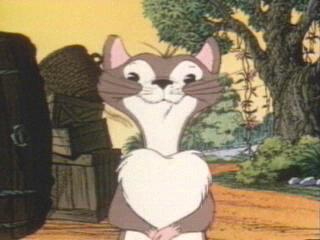 Rikki Tikki Tavi (1975)
http://www.youtube.com/watch?v=0qhBxv7r5gg
Mehr zu Chuck Jones:
Jones hit his stride in the late 1940s, and continued to make his best-regarded works through the 1950s. Jones-created characters from this period includes Claude Cat, Marc Antony and Pussyfoot, Charlie Dog, Michigan J. Frog and his three most popular creations, Pepe LePew, the Road Runner, and Wile E. Coyote. The Road Runner cartoons, in addition to the cartoons that are considered his masterpieces (all written and conceived by Michael Maltese), Duck Amuck, One Froggy Evening, and What's Opera, Doc? are today hailed by critics as some of the best cartoons ever made.
Duck Amuck (1951) ist wirklich zu empfehlen und auf Dailymotion zu finden:
http://www.dailymotion.com/video/x22s5o_looney-tunes-bugs-bunny-daffy-duck
Author: Christoph Schwinghammer
11 Jun
Man glaubt es kaum, aber es werden noch gute Cartoons erzeugt! "The Venture Bros." sind eines der besten Beispiele dafür. Gutes Layout, geniale Ideen en masse, bis ins kleinste Detail ausgearbeitete Charakter und Persiflagen wohin das Auge blickt. Herrlich! Kein Klassiker wird verschont, kein Comic ausgelassen und kein noch so winziges Blatt vor den Mund genommen.
Brock Samson, The Monarch, Dr. Orpheus… GENIAL!
Also, wenn mal wieder die Langeweile Einzug hält, die Venture Brothers wissen sie gekonnt zu vertreiben!
"I´m the BAT!", "IGNORE ME!" und natürlich "GO TEAM VENTURE!"
more information:
http://www.venturebros.com/ (incl. tons of extra features and scrotal safety tips)
http://en.wikipedia.org/wiki/The_Venture_Bros.
THX VanVendel
Author: Christoph Schwinghammer
8 Jun
Vorweg:
FAQ of Glath Video:
Is this website legal? It seems too good to be true!
Yes, this website is perfectly legal. There are no copyrighted materials hosted on this website.
Es liegt wahrscheinlich daran, dass der Betreiber dieser Webpage selbst keine Videos hostet sondern sie lediglich verlinkt. Nun ja, die Betrachtung der Namen der Folgen ist auf jeden Fall legal und alles was darüber hinaus geht, liegt in eigenem Ermessen. Also wer eine Episodenübersicht von folgenden Serien benötigt:
– Aqua Teen Hunger Force
– Boondocks
– Clone High
– Drawn Together
– Family Guy
– Frisky Dingo
– Futurama
– Harvey Birdman
– Metalocalypse
– Moral Orel
– Robot Chicken
– Sealab 2021
– South Park
– Venture Brothers
– Chappelle's Show
– Entourage
– Human Giant
– Jackass
– Mythbusters
– Penn & Teller: Bullshit!
– The Sopranos
– Weeds
…wird bei Glath Video fündig.
THX VanVendel
Author: Christoph Schwinghammer
5 Jun
Die Jungs machen verdammt gute Kurzfilme, da kann man nicht meckern!
http://www.sevenohfive.com/
Kostprobe gefällig?
Skid Marks

Three Card Studs

Author: Christoph Schwinghammer
8 May
Einfach leiwand anzusehen…

THX Tobi
extended info @ http://wherethehellismatt.com/
Author: Christoph Schwinghammer
26 Apr

Der Alptraum wurde tatsächlich Wirklichkeit! Soeben wurde die letzte, (nebenbei bemerkt, die 114. Folge) "Sendung Ohne Namen" ausgestrahlt. Auch die letzte Auflage war inhaltlich fabelhaft und mit zahlreichen prominenten Dankesreden und Abschiedsgrüßen gespickt. Unter anderem sprachen Größen wie Josef Hader, Armin Wolf (Verdammt Moosi du hast recht, er IST die Reinkarnation vom Herwig! *Rucki Zucki!*), Peter Brugger und last but not least unser Landesoberhaupt, Bundespräsident Dr. Heinz Fischer ihr Bedauern über das Ableben des "Mediums" aus. Zu guter Letzt gab es ein kleines Revival mit der Darbietung der allerersten Sendung, einfach ewig schade drum…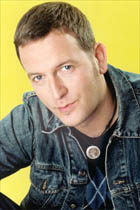 Wer schon immer einmal das Gesicht zur Stimme sehen wollte:
Fred Christian Schreiber ->
extended info:
http://de.wikipedia.org/wiki/Sendung_ohne_Namen
http://de.wikipedia.org/wiki/Fred_Schreiber
Author: Christoph Schwinghammer
19 Apr
OMG! Die Serie der Serien geht zu Ende. Ein Medium exzellenter Güte, in seiner Existenz einzigartig, wird als solches nicht mehr lange verfügbar sein… EIN VERLUST FÜR ALLE WISSENS(HALBWISSENS)DURSTIGEN VON KATASTROPHALER GRÖSSE!!! 🙁
Letzte Sendung am 26.04.2007
Offizielles Statement:
Kennen Sie nicht? Sehen Sie, dafür bin ich da. Oder war. Naja. Als Trost kann ich sagen: Vor kurzem haben britische Wissenschaftler herausgefunden, dass jede Stunde vor dem Fernseher das Risiko an Alzheimer zu erkranken erhöht. Am besten also, Sie schauen fleißig weiter, früher hätte man gesagt, jeden Tag bis Sendeschluss, dann haben Sie mich in ein paar Jahren vergessen. In diesem Sinne wünsche ich uns allen noch viele schöne Stunden mit dem Fernsehprogramm des ORF. Wiederschauen.
extended info: http://de.wikipedia.org/wiki/Sendung_ohne_Namen
Author: Christoph Schwinghammer
18 Apr
Eine der besten Homepages bzw. bester Online Fernsehkanal überhaupt, immer wieder einen Besuch wert…
Extreme Sports – Comedies – Babes 🙂
The perfect mix!